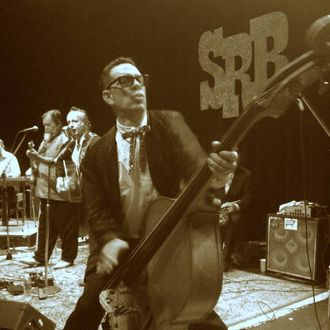 Billy Bratcher
Slap Bass, Vocals
Billy Bratcher holds down the beat for the trio on upright bass. He toured with Texas Juke Joint King, Wayne Hancock, and became well known throughout the US for mastering the unique "slap bass" style. He can be heard on the title track of Hancock's "That's What Daddy Wants" CD. In addition to his high energy playing and flamboyant showmanship, Billy B. is a consummate song writer. Billy writes most of the Starline Rhythm Boys original songs, which ring like classics.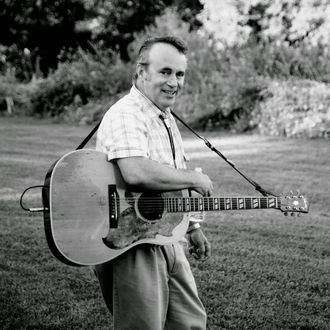 Danny Coane
Acoustic Guitar, Vocals
Danny Coane, the rockin' pride of Vermont, just keeps rollin'. He has fronted bluegrass, country and blues bands, but the rockabilly, rock 'n roll act "The Throbulators" gained him national exposure. When you talk about "the real deal", you're talking about cats like Rockin' Danny C. He writes and sings with relentless enthusiasm, and picks a banjo and guitar with equal ability. He is the singing and rhythmic foundation and consummate front man for the band.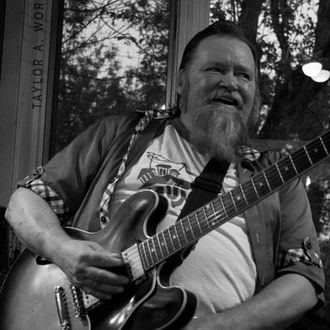 Al Lemery
Electric Guitar, Vocals
Al Lemery shines bright under any stage light. The sound that echoes out of his guitar can be spine-tingling. Al has been banging out the beat throughout the northeast for 30 years. After stints in Albany, NY with the likes of Johnny Rabb's Jailhouse Rockers, Al made his way to Burlington, VT. He is in his element in front of a crowd. When "Big Al" croons out a ballad, everybody listens. His powerful harmonies round out the trio's high lonesome and hot rockin' sound.
Where it all began...
Billy Bratcher, born in Bennington in 1962, thought late-'70s punk bands like the Clash were going to change the world. He told his father so, but his father wasn't buying it. In fact, the elder Mr. Bratcher's tastes ended up influencing Billy more than either ever imagined. 
"I would fall asleep hearing him downstairs listening to Roy Orbison and Johnny Cash on the eight-track," Bratcher recalls. "And Waylon Jennnings. He was into those guys heavy." 
Bratcher encountered live rockabilly music as an underage patron in a Hoosick Falls, NY, nightclub, where a performer named Jack Smith took his breath away. 
"The visual was wild. He wore sharp duds and white bucks. He took the microphone on top of the bar and belted out this rockabilly music." 
Still a youngster, Billy was recruited by a locally well known band called Visible Twitch, who took him to Albany and bought him his first bass. In 1987, Bratcher decided to move to Burlington because it was a more happening place. Soon after his arrival, fate stepped in. 
"I was at Nectar's one night listening to the Throbulators." Bratcher pauses, then emphasizes each word. "And a vibrant... blistering... wild man... behind the microphone was belting out this Jerry Lee Lewis song, 'High School Confidential.' I was so excited. I was with my girl and I said, 'One of these days I'm going to play in a band with someone like him, or him.'" 
Bratcher had just had the Danny Coane experience. 
But fate took its sweet time. First Bratcher organized a band called Buck and the Black Cats, which released an album in 1996 that featured, on guitar, a rough-handed commercial fisherman named Big Al Lemery. Soon thereafter Texas bandleader Wayne Hancock worked a show with the Cats, grooved on their bass player ("It was the chops, man," says Bratcher. "I play slap bass. There's not a lot of guys who can do that well") and took him on the road. 
For Bratcher, it was a dream come true, a chance to tour nationally and work with the top names in the business. Plus, Bratcher admired Hancock's writing and wanted more exposure to that element of musical artistry. But full-time road work didn't jibe with Bratcher's desire to start a family, so after a year he returned to Burlington and took a day job. 
One night in 1998 Bratcher invited Coane and Lemery to come over and play some tunes. 
"We just started doing some songs... some Haggard tunes, whatever," says Coane, "and it was like, wow this sounds awesome. This is really happening." 
The enthusiasm was mutual among the three, and after some rehearsals Bratcher approached Red Square, a nightspot in Burlington. Management gave them a listen, and the Starline Rhythm Boys have been packing them in there on a regular basis ever since, as they have at Charlie-O's in Montpelier and other venues. 
- by Will Lindner, from "Honky-Tonk Heroes" 
in Vermont Sunday Magazine, the Sunday Rutland Herald/Times-Argus, Nov. 10, 2002